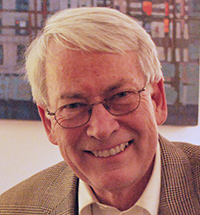 David Robb is Assistant Minister for Adult Education and Scholar-in Residence at All Souls. His primary responsibility as a member of the ministerial staff is for planning, implementing, and coordinating the adult education programs of the congregation. In addition to his work at All Souls he is also a Psychotherapist and Pastoral Counselor with a practice in Manhattan, and is an Associate of Kenwood Psychological Services.
Mr. Robb was educated at Yale College (B.A., English Literature, 1962), and Union Theological Seminary, (M.Div., Theology. 1965, and S.T.M., Psychiatry and Religion, 1981). In addition he earned a Certificate for the practice of Psychotherapy from the Blanton-Peale Graduate Institute in New York City after completing a three-year residency program from 1986-1989.
Mr. Robb was ordained to the ministry in the fall of 1965 at the First Congregational United Church of Christ in Washington, D.C. where he served as an Associate Minister for three years before taking a position as a Program Director with the Council of Churches of Greater Washington D.C. for six years. While in Washington he was also invited to be a Lecturer in Theology at Georgetown University, and taught a course each semester from 1968-1973.
From 1973-1987 Mr. Robb served as Chaplain and Associate Professor of Religious Studies at Connecticut College in New London, CT, a position he left in order to complete training as a psychotherapist. In addition he has been a pastor of Congregational Churches on Fishers Island, NY, and in Mount Washington, MA. He is also trained in the organizational development of religious organizations, and has served as a consultant to several other congregations in the Metropolitan New York area. As a member of the ministerial staff of All Souls he is frequently called upon to conduct memorial services and weddings.
Mr. Robb is the father of four children, Matthew, Nathan, Sarah, and Timothy, and one grandson, Caleb.