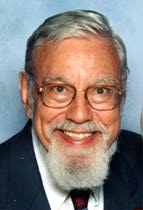 Richard D. Leonard is the Minister Emeritus of All Souls Unitarian Church in mid-Manhattan, New York City.
Born in Detroit in 1927, he graduated from Yale (1949) and Union Seminary in New York (1952). Richard served the Union Church of Bay Ridge, Brooklyn, and Bethany Congregational Church of East Rockaway, NY, before being appointed the Minister of Education at the Community Church of New York (1959-1968).
For fifteen years, Richard was the Director of Development for three New York City schools, Walden (1968-1971), Horace Mann (1971-1975), and Columbia Prep (1975-1983). He simultaneously was part-time minister of the Flatbush Unitarian Church.
In 1965 he had a "life-changing" experience. During the height of the Civil Rights protests, he spent 18 days in Selma, Alabama. With the killing of James Reeb, a Unitarian minister, Richard was permitted to walk the 50 miles to Montgomery in his place. His book, Call to Selma: 18 Days of Witness, is the only hour-by-hour account of the march written by one of the 300 who walked the distance. It is now part of the National Archives and can be purchased on Amazon.
In 1979, Richard and his second wife, Polly, joined All Souls Church, where he served as Assistant Minister to the Rev. F. Forrester Church until the death of Dr. Church in 2009.
His second book, Ports of Call: Journeys in Ministry, records unusual events that occurred during the Leonards' travels in other countries.
Richard's third book, Wet Cement, is a three-volume collection of recollected stories arising from a more than 60-year ministry in New York City. The book was introduced at a book signing on Richard's 90th birthday in 2017. Many of the stories are from the 4400 weddings he performed since 1952.
Richard's long involvement with music included the presidency of the Yale Brand Alumni, playing violin in the Riverside Orchestra in New York, and found and hosting Project 142 in his apartment, which has had 160 performances in various locations in New York City for 5000 attendees.
Richard's wife Polly died in 2017, after a seven-year battle with Alzheimer 's disease. He maintains a close connection to their four surviving children, seven grandchildren, and seven great-grandchildren. He currently indulges his interest in chess, having played World Champion Anatoly Karpov in an exhibition in 1979. He has taught more than 700 children the game in New York City schools, and currently teaches chess on Norwegian Cruise lines.
His telephone number, at church, is (212) 535-5530.