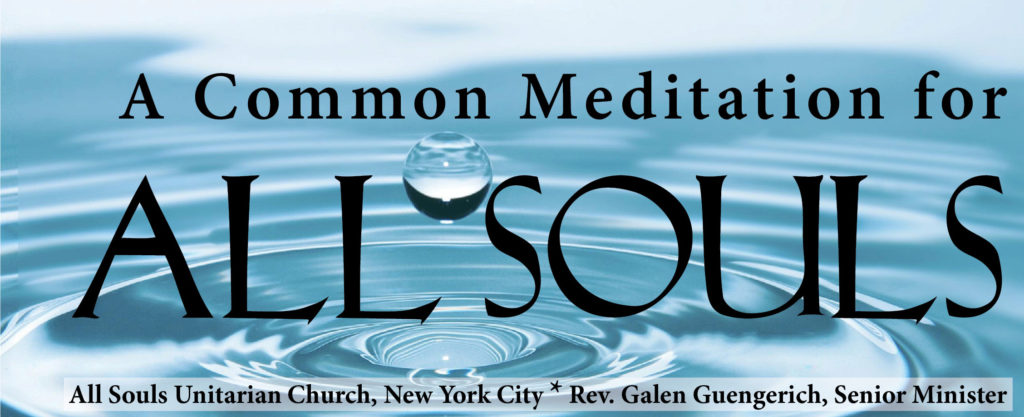 Email Us to sign up to receive a daily meditation via email.
Read Rev. Guengerich's sermon, The Practice of Faith. 
The purpose: a daily spiritual practice to help spark our moral imagination and set our moral compass as individuals (Emerson called it "provocative reading"). It can also help establish a common spiritual conversation that will further unite us as a community of faith.

The practice: sit comfortably and take a few deep breaths to remind your body that it's time to focus—any time of day (as short or long as you like), anywhere you have time to yourself.

Reading: read the day's text carefully several times, preferably aloud.

Reflection: ask yourself which word or phrase provokes your attention. Why that word or that phrase? You may wish to jot the word or phrase in a journal. Reflect for a short time on the word or phrase and ponder what it evokes in you. Make a note or two.

Intention: ask yourself what purpose your reading and reflection suggests for you on this day. Set a specific intention that you can reasonably fulfill. Perhaps jot it down.

Contemplation: expand your awareness from intention to gratitude. Remind yourself that the world is full of untapped wisdom and your life is full of unrealized potential. Note a couple of things for which you're especially grateful.
If you wish, end your practice with the final two lines of the All Souls benediction: "This is the day we are given; let us rejoice and be glad in it."

To receive A Common Meditation for All Souls via email, please send us an email.