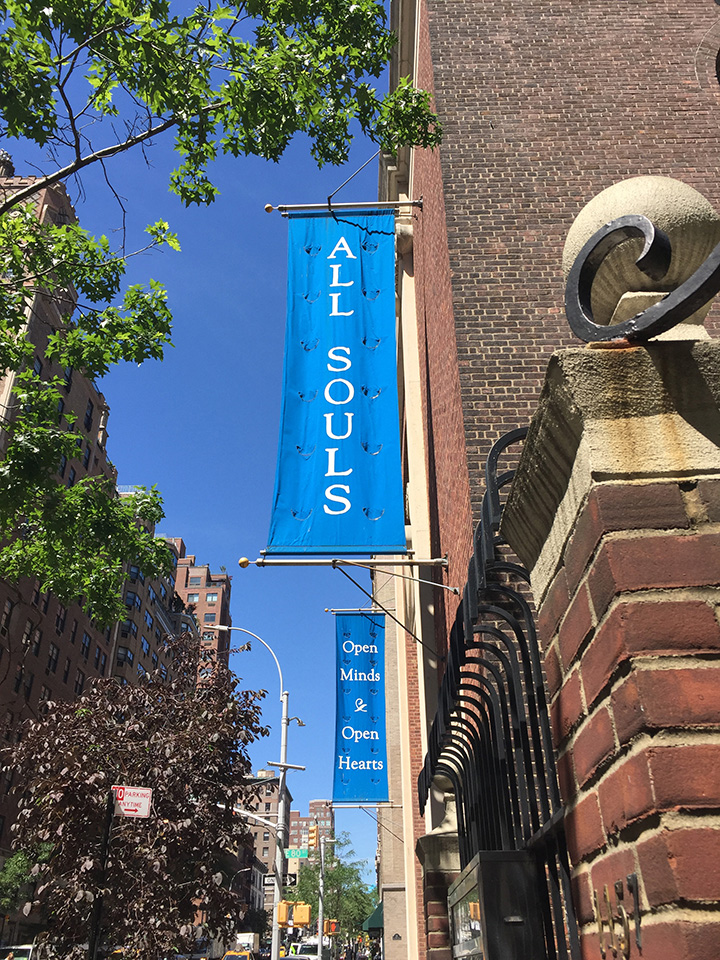 GROUPS FOR FELLOWSHIP, LEARNING, AND THE ARTS
Community at All Souls
The Unitarian Church of All Souls is a vibrant Unitarian Universalist community of faith in which ministry is shared amongst lay leaders and ordained clergy in service to shared commitments and vision. At All Souls, groups form for many reasons. Some groups seek fellowship around shared interests or the joys and challenges of a similar life stage or identity. Others come together to pursue learning and spiritual growth. Still others coalesce around shared interests in music and the arts and community partnerships.
Below, you'll find more information on our groups for Fellowship, Learning and Growth, and Music and the Arts.


FELLOWSHIP
ALL SOULS YOUNG ADULTS
All Souls Young Adults aspires to be one of the most vibrant and deeply connected young adult groups in New York City. We have created a group that easily welcomes newcomers with different backgrounds, perspectives, and sexual orientations. Our members are of various ages, with most in their 20s or 30s. People come to our group for several reasons: to make and connect with friends, to engage in meaningful discussions, or to deepen their sense of spirituality.
ASYA Mailing List: To receive our monthly Calendar of Events, please email allsoulsyoungadults@allsoulsnyc.org.
ASYA Facebook Group: For detailed information on our events, join or simply visit our public Facebook group.
The Springboard: The Springboard is an online community where members can propose informal social activities to the group. Find us at The Springboard.
ASYA Leadership Team: We are always interested in hearing about ideas for collaborations with other groups in the church. You can reach the many members of our leadership team all at once via email at asya-leadership-team@googlegroups.com.
If you have questions, email allsoulsyoungadults@allsoulsnyc.org.


THE CIRCLE OF ELDERS
The Circle of Elders was founded with the goal of discussing issues of interest to older members of the All Souls community. These in-depth discussions cover topics such as independence, health, spirituality, relationships, loneliness and end-of-life concerns. Members also share their historic memories, personal reflections, plans and hopes for the future. Discussions are always lively and respectful and members are very supportive of one another. Meetings take place from 2:00-4:00 p.m. on the second and fourth Thursday of every month from September to June.
For more information, please contact Mary Keane at (212) 879-6340 or keanepsy@gmail.com.
THE LAYMEN'S LEAGUE
The Laymen's League is a re-energized men's group that started up again in 2016. The inspiration came from our Bicentennial conversations. We are interested in the history of our congregation and eager to help shape our future. The Women's Alliance has been an active presence in our congregation for more than a century and it was suggested that a group especially for men would be appreciated and a welcome addition to the congregation. From research provided by retired All Souls Archivist, Lorraine Allen showed that All Souls had an active Laymen's League from the 1920s until the 1950s. Our past Senior Minister, Dr. William L. Sullivan resigned from All Souls in 1922 to become the President of the National Unitarian Laymen's League. U.S. President, William Howard Taft, was the principal founder of the National League of Unitarian Laymen in 1909.
Neither a "special interest" group or strictly a service organization, the Laymen's League's focus is intended to be social and a way to meet and get to know others. We hope to create an integrative relationship among our members.
For more information, please contact Bill Bechman at bill.bechman@gmail.com.


THE WOMEN'S ALLIANCE
…supporting values of friendship, equality and justice
Since its founding in 1819, women have been active within the All Souls congregation. Today the Women's Alliance (WA) is a community of more than 120 dynamic, empathic, and dedicated women who embody Unitarian Universalist values in their lives. It welcomes members from the Unitarian Church of All Souls as well as non-church members.
The organization cultivates an environment in which women of all ages participate in social, cultural, educational, and charitable activities designed to enrich individuals' lives. It also creates forums during which issues of concern to women can be explored.
The WA offers a wide variety of activities, including regular outings (e.g., to art exhibits, botanical gardens and other sites), monthly luncheons, and Saturday afternoon special events with notable speakers. The organization also undertakes fundraising activities, with the monies raised given to charities. See the Monthly Bulletin for current Women's Alliance activities.
For more information, please contact WomensAlliance@allsoulsnyc.org.
Special Interest Groups
Special interest Groups (SIGs) support members' varied interests. Current SIGs appear below. New SIGs will be formed when members suggest new areas of general interest and volunteer to serve as Coordinator or Co-coordinator of the new SIG.
Women's Reading Group – for more information, see below.
Cinema Club – Once a month, generally the second Wednesday of the month, members view and discuss a well-reviewed, recent film. Contact: Maureen Marwick (maureen31572@gmail.com).
Play Readings – The second Friday evening of the month, members hear modern plays read by professional actors at The Ethical Culture Society. Contact: Maureen Marwick (maureen31572@gmail.com).
Concert Group – To date, members have attended daytime New York Philharmonic concerts and summer Naumburg concerts in Central Park. Contact: Mary Geissman (mjgeissman@gmail.com).
Bridge Club – Every other Monday afternoon, this SIG meets in the Ware Room. Contact: June Castle (junecastle1@gmail.com).
LEARNING AND GROWTH
ADVENTURES IN IDEAS FORUM
This is a discussion group dedicated to exploring philosophy, spirituality, psychology, social issues, ethics, science, anthropology, and anything and everything else under the sun. We usually meet the second or third Sunday of the month after Coffee Hour. It is a forum for anyone who is interested in participating to exchange ideas in an open ended discussion forum. Anyone interested is always welcome to submit a topic for discussion.
Contact Dennis DeForge at adventuresinideas@juno.com.


THE ALL SOULS HISTORICAL SOCIETY
The Historical Society at All Souls works with a professional archivist to preserve documents and records associated with All Souls from its founding in 1819 to the present. Files are preserved at a facility in Chicago. The Archival Library has books by our ministers and some by church members. One of our projects is to create an oral history through the taping of memories of older members of the congregation. There is also an extensive picture collection. Displays of pictures and artifacts from the Archives are featured periodically for the congregation. The Historical Society also sponsors the Henry Whitney Bellows Lecture, a yearly talk on a topic of historical importance to All Souls. An annual membership meeting of the Historical Society is held in the fall.
Email us for more information.


BUDDHISM AND MINDFULNESS AT ALL SOULS
Our Buddhism and Mindfulness programs offer a variety of classes and groups to learn about and practice meditation. We sit in chairs and no experience is necessary. Meditation has been called "a radical act of love and sanity" by the mindfulness pioneer Jon Kabat-Zinn. Come join us to cultivate a life of greater love, sanity, happiness, and connection. All are warmly welcome!
We offer a Buddhism and Mindfulness event almost every Sunday, either at 10am or 1:30pm. Please click here for detailed information about all of our events.
Contact: Pamela Patton, Director of Pastoral Ministries
ALL SOULS WRITERS' GROUP
Our purpose is to encourage our members to explore the deepest yearnings of the human spirit through writing. We offer the opportunity for members of the All Souls community to read their work aloud and receive thoughtful and supportive reviews and suggestions. In addition, we sponsor bi-annual readings to allow writers to share their work with family, friends and members of the congregation. We meet on the second and fourth Monday of each month from 6:30 to 8:30 p.m. Our group readings take place on Sunday afternoons, in the Spring and Fall.
Contact Marilyn Mehr for more information at Marmehr@aol.com or (212) 249-0012.


CAREER DEVELOPMENT AND LIFE DESIGN GROUP
The Career Development and Life Design Group provides information, resources, and connection to support people of all ages and professions in order to:
Develop a more exciting and fulfilling career, life purpose, or mission
Look for a job, internship, volunteer work, education, or training
Become a consultant, freelancer, or entrepreneur
Grow one's own practice, business, or organization
Do volunteer consulting, mentoring, board service, public service, or philanthropy
We invite participants to share career interests, aspirations, and opportunities; explore what they want or need for professional growth and development; develop strategies and action plans and participate in group brainstorming, resource sharing, and support. Our approach is client-centered and individualized within a supportive group setting, with an emphasis on participants' sustainable development, helping them to become more effective and self-sufficient in their their jobs and careers, more productive and engaged in their work and its meaning for themselves and others, and more aligned with their own true vocations, realizing their full potential throughout their careers and lives. We meet on the second and fourth Thursday of every month of the year and no membership is necessary to participate. All of our events are free and open to everyone. And see us when we have a table in Reidy Friendship Hall on Sundays after services, where we provide individual help — we'll be there most Sundays.
For more information, please contact John German at german63@hotmail.com.
Read about this month's Career Development and Life Design Group events in the All Souls Bulletin.


WOMEN'S READING GROUP
The Women's Reading Group is a program of the Women's Alliance and meets on the first and third Tuesday evenings from September through May to discuss books written by women that are available in paperback editions. In December, the group meets on the first Tuesday only to celebrate the holiday season by reading poetry aloud (including our own compositions) and enjoying a festive dessert party together.
For more information, please contact Mary-Ella Holst at meholst@aol.com.


MUSIC AND THE ARTS
ALL SOULS BEACON
Produced and edited by members of the congregation, this online publication includes editorials, articles, photographs, and feature stories that reflect upon our history and inform the congregation about activities at All Souls.
Visit the blog at www.allsoulsbeacon.org.


ALL SOULS CLASSIC FILMS
All Souls Classic Films screens a classic film from a variety of decades and genres – award winners, obscure gems, and blockbuster hits are all featured – once a month on Friday evening. Join us for a great film and a lively discussion after. Come for food and drinks before the movie – and bring something to share!
Check out the All Souls Bulletin for the month's film selection.


COMMUNITY CHOIR
Rehearses every Tuesday night from 6:30-8:00 in the chapel and sings in Sunday services four times a year. The choir is open to everyone.
For more information or to inquire about joining, please contact Bryan McNamara, Director of Creative Operations.


STORIES WITH SOUL
Stories with Soul invites you to join us for a one-hour short story reading and discussion held each Wednesday evening at 6:45 throughout the year in the Ware Room. No prior reading is necessary. Stories with Soul is "A Mecca for lovers of the short story" (Columbia Spectator) and a great way to meet people. The stories are diverse and the discussions stimulating. Weekly sessions are led by a monthly host appointed by the coordinators. The host, in turn, selects weekly readers, who choose their own stories. Written guidelines are provided to hosts and readers. The group has a party in the Ware Room twice a year, including a Halloween costume party. The monthly schedule of stories can be found in the All Souls Bulletin.
For more information, please contact Steve Michelman, Coordinator, at stephenemichelman@mac.com or Teresa Brooks, Co-Coordinator at tfbrooks@gmail.com.


MUSICA VIVA NY
(A Community Partner)
Musica Viva NY is a chamber choir of thirty professionals and highly skilled volunteers. Since its founding in 1977, Musica Viva NY has been driven by a desire to share the transcendent power of choral and instrumental music with audiences in New York City and beyond. Based in Manhattan's historic All Souls Unitarian Church, Musica Viva NY's imaginative programming offers joy, solace, and renewal in a complex world. Presenting a broad repertoire of new compositions and classic masterworks, Musica Viva NY emphasizes artistic excellence and transformative interpretations to ennoble the human spirit.
For more about Musica Viva NY, their upcoming concert schedule, please visit MusicaViva.org.