SERVE THE WORLD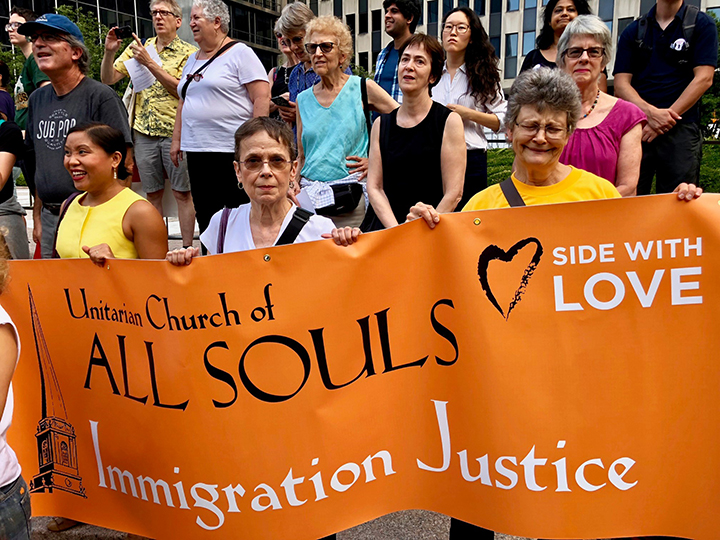 PEACE AND JUSTICE TASK FORCE
The mission of the Peace and Justice Task Force (PJTF) is to offer programs that analyze and increase awareness of events and issues of the day that go beyond what is reported in the mainstream media and which reinforce our Unitarian Universalist principles of justice, equality, diplomacy, and human dignity.
All our efforts are dedicated to getting "ordinary" people to participate and grow. If you want to organize or just attend — you are needed! We need your participation, feeback and energy!
For more information, please contact Linda Rousseau at rousseaulinda@gmail.com.

Visit our Facebook Page!


RACIAL JUSTICE INITIATIVE
The Racial Justice Initiative unites volunteer lay leaders and staff to deepen the congregation's understanding of race-related issues and its commitment to further racial justice both internally and externally, as part of an intersectional commitment, linking race with class, gender, and other issues, to enact Unitarian Universalist values. The group works closely with other All Souls groups, primarily the Peace and Justice Task Force.
For more information, please contact Audette Fulbright, Associate Minister at Audette@allsoulsnyc.org or visit our Facebook Page.


THE NUCLEAR DISARMAMENT TASK FORCE
The Nuclear Disarmament Task Force (NDTF) sponsors educational and citizen action programs aimed at the control, reduction, and ultimate elimination of nuclear weapons, working with a network which includes other Unitarian Universalist congregations, interfaith coalition partners, and such organizations as the Lawyers Committee on Nuclear Policy, Physicians for Social Responsibility, and the NGO Committee on Disarmament, Peace and Security at the United Nations.
In addition to sponsoring educational programs with films and speakers, the Task Force issues legislative action alerts on nuclear issues, which are shared with other Unitarian Universalist congregations across the country and other coalition partners. All our meetings are open, and are announced in the All Souls Bulletin and in the Order of Service.
For more information, please visit our Facebook page.


UNITARIAN UNIVERSALISTS FOR JUSTICE IN THE MIDDLE EAST
Unitarian Universalists for Justice in the Middle East/All Souls NYC is a chapter of the national UUJME. Our mission is to educate ourselves and our community about the Israeli-Palestinian conflict, to provide a safe environment for illuminating and respectful discussion, and to influence our elected officials to demonstrate equal concern for the human and civil rights of Israelis and Palestinians.
For more information, contact please contact co-chairs Karen Steel at ksteele@mindspring.com or Deborah Taylor at dft4net0@gmail.com.


THE UU-UNITED NATIONS OFFICE
Your voice at the United Nations, the Unitarian Universalist Association's (UUA's) United Nations Office (UU-UNO) is engaged in international advocacy work at the UN based on Unitarian Universalist (UU) values.
From involvement in the drafting of the Universal Declaration of Human Rights, to leading the faith caucus to establish the International Criminal Court, to overcoming UN apathy about sexual orientation & gender identity issues, the UU-UNO has a long history of providing strong leadership in all aspects of human rights at a policy level through UN consultative status.
The All Souls Envoy Program is our congregation's programmatic link with the UU United Nations Office. Focus issues are UN International Affairs and Human Rights.
For more information visit the UU-UNO website.

For more information about All Souls involvement with the UU-UNO, please contact Peggy Montgomery at peggydm@rcn.com.
HEART & SOUL COMMUNITY OUTREACH PARTNERS
FRIDAY SOUP KITCHEN
At Friday Soup, our mission has remained the same for more than thirty years: to provide a healthy, hot meal to anyone who is hungry, in a communal atmosphere that encourages friendship and conversation. Our door is open to all; no one is ever turned away. We serve a nourishing meal every Friday at 12:00 Noon, 52 weeks a year, even on holidays. We seat our guests at round tables for eight, with a tablecloth, real plates and silver, even a centerpiece. Each table is waited on by one of our volunteers and often children from local private schools. We try to create an atmosphere where guests feel welcome and are treated with a dignity that may be lacking in their lives.
Our volunteers are the very heart of FSK. Every Friday, 40-50 volunteers prepare the meal, set up the dining room, serve the food and wait on every table. We are always looking for new volunteers to join our family and help us fight hunger in New York City. Everyone is welcome to be part of the team.
To volunteer, please contact:
Carole Weiss Cgweiss42@gmail.com
Donna Harrow Donnaharrow@yahoo.com
Visit our website at Fridaysoupkitchennyc.org.
Follow us on Twitter.



GIRL SCOUT TROOPS IN EAST HARLEM
Girl Scouting builds girls of courage, confidence, and character, who make their communities and the world a better place. This mission resonates with parents who want a safe, challenging, and engaging program for their daughters. All Souls has supported Girl Scout troops in East Harlem for 25+ years, providing scouting for underserved populations. Heart & Soul Fund provides critical financial aid that enables us to offer the programs, uniforms, trips, and camping at reduced fees. The Unitarian Church of All Souls sponsors the troops, recruits leaders and girls, and operates the comprehensive program for four Girl Scout troops that meet in East Harlem at St. Edwards Church at 14 East 109th Street between Madison and Fifth Avenues.
The Girl Scout program offers extraordinary opportunities for girls to grow, learn, and have fun. It is based on the Girl Scout Promise and Law that generations of girls have followed. In 2008, Girl Scouts launched the Girl Scout Leadership Experience, represented by three keys of leadership—Discover, Connect, and Take Action—to promote the Girl Scout Mission: Girl Scouting builds girls of courage, confidence and character, who make the world a better place.
Visit www.girlscouts.org and www.girlscoutsnyc.org for more information about the Girl Scouts.

Please contact Sandra Fisher at sfisher535@aol.com.


MONDAY NIGHT HOSPITALITY
Monday Night Hospitality serves over 300 meals to our neighbors in need every Monday in All Souls' Reidy Friendship Hall. Each week, over 100 volunteers serve a restaurant style service. Guests are served on tables set with linen tablecloths, church china and flatware. Flowers adorn the tables and frequently guest musicians entertain on the piano. Social Workers are available for one-on-one meetings and have the ability to make on-line referrals on health, veteran, medical and other issues confronting our guests.
The menu varies each week and we have home baked deserts to end each meal. Holiday meals for Christmas, Easter, Martin Luther King Day and July 4th have special menus. Pizza night, roast beef and other special meals are possible each year due to the generosity of our volunteers. In addition we serve a vegetarian casserole option with protein sourced from beans as well as a vegan option donated by Candle 79 (a local vegan restaurant).
Four shifts of volunteers are needed each week. All are welcome to help make every Monday special for those who come to All Souls for comfort and love. Please contact us in advance if you would like to volunteer. Participation by members of our congregation is a vital part of our outreach efforts.
We thank the Congregation of All Souls, our Ministers, the staff members of All Souls, and Heart & Soul Charitable Fund for making this vital work possible.
For more information or to volunteer, please contact George Collins at georgecollinsRR@yahoo.com or (917) 653-0333.


Visit our Website and Facebook Page.


NAVIGATORS USA
Navigators USA is an all-gender, secular scouting movement that welcomes all people – children and adults no matter their gender, race, lifestyle, ability, religious, or lack of religious belief. We believe the greatest challenge for the future of our planet is to get along with people different from ourselves. It was born in 2003 when members of All Souls who had been running Boy Scout Troop 103, the first Boy Scout Troop started in a homeless shelter. The volunteers felt it critical to offer more choices within the scouting community, even if it required the creation of a new organization. Thus was born the idea of a co-ed, secular, updated version of scouting and named it Navigators USA. With the support of dozens of members of All Souls over the years, Navigators USA, is now the fastest growing, largest co-ed, secular scouting movement in the country. With over 148 Chapters in the US and more in the United Kingdom, France, and Kenya.
Navigators USA was created to provide a scouting experience for children who either can't or don't want to join the existing scouting organization in their local community. Whatever the reason, there should be more than one option for children and parents when it comes to scouting. The Navigators USA is here to teach many of the same skills and values of traditional scouting while emphasizing diversity, inclusion, and group problem-solving. Founded by All Souls member, Robin Bossert.
For more information, please visit our Website and Facebook Page.


NEW AMSTERDAM BOYS AND GIRLS CHOIR
The purpose of the New Amsterdam Boys & Girls Choir is to enrich the lives of children in the East Harlem community, using choral singing as a catalyst. Discipline, respect and academic success are expected as well as working harmoniously toward common goals. Led by Artistic Director James Backmon, the choir's membership comes from East Harlem public schools and most members join without any musical training. Parents support the choir by serving as chaperons for choir activities, including performances and recreational outings. In addition Parents help with fundraising. There are regular parent meetings throughout the school year. Founded by James Backmon.
Visit our website at www.naboysgirlschoir.org.


HEART & SOUL CHARITABLE FUND
The Heart & Soul Charitable Fund supports community-based programs that serve New York's marginalized populations through the investment of time, money and compassion. Together with our partners and supporters we find creative and inspiring ways to sustain the critical work they do by:
Making grants to emerging and worthy neighborhood-based organizations which serve those whose needs are not being addressed by larger charitable organizations
Partnering with these organizations so their story can be shared, their volunteer base can expand, and they can become better advocates for the communities they serve
Recognizing and honoring their volunteers and staff
Celebrating the legacy of the late Rev. Dr. Forrest Church through the annual presentation of the Forrest Church Award
Heart & Soul was founded in 1988 to raise funds for two long-running meal programs, which together serve 28,000 meals annually at All Souls Church. Now over 25 years later, we continue to fund these programs in addition to other youth services and community-based programs in New York City.
Learn more! Visit our website at www.heartandsoulfund.org.
Contact us at info@heartandsoulfund.org.