SERVE THE WORLD
THE NUCLEAR DISARMAMENT TASK FORCE
The Nuclear Disarmament Task Force (NDTF) sponsors educational and citizen action programs aimed at the control, reduction, and ultimate elimination of nuclear weapons, working with a network which includes other Unitarian Universalist congregations, interfaith coalition partners, and such organizations as the Lawyers Committee on Nuclear Policy, Physicians for Social Responsibility, and the NGO Committee on Disarmament, Peace and Security at the United Nations.
In addition to sponsoring educational programs with films and speakers, the Task Force issues legislative action alerts on nuclear issues, which are shared with other Unitarian Universalist congregations across the country and other coalition partners. All our meetings are open, and are announced in the All Souls Bulletin and in the Order of Service.
For more information, please visit our Facebook page.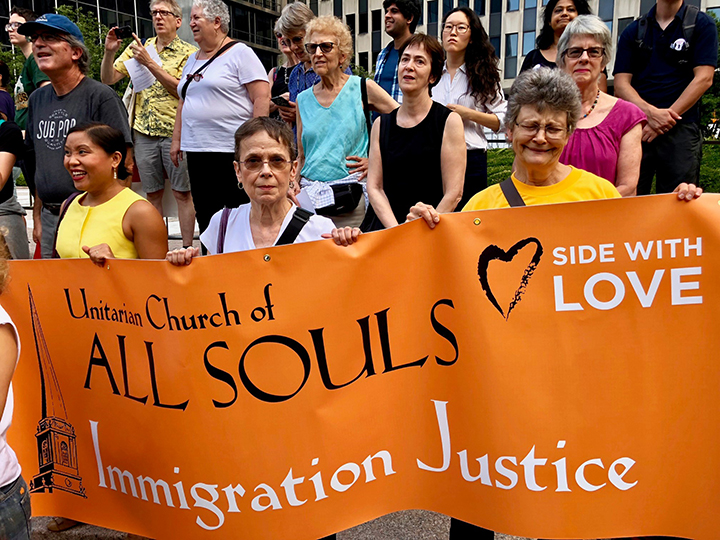 PEACE AND JUSTICE TASK FORCE
The mission of the Peace and Justice Task Force (PJTF) is to offer programs that analyze and increase awareness of events and issues of the day that go beyond what is reported in the mainstream media and which reinforce our Unitarian Universalist principles of justice, equality, diplomacy, and human dignity.
All our efforts are dedicated to getting "ordinary" people to participate and grow. If you want to organize or just attend — you are needed! We need your participation, feeback and energy!
For more information, please contact Linda Rousseau at rousseaulinda@gmail.com.

Visit our Facebook Page!


RACIAL JUSTICE INITIATIVE
The Racial Justice Initiative unites volunteer lay leaders and staff to deepen the congregation's understanding of race-related issues and its commitment to further racial justice both internally and externally, as part of an intersectional commitment, linking race with class, gender, and other issues, to enact Unitarian Universalist values. The group works closely with other All Souls groups, primarily the Peace and Justice Task Force.
For more information, please contact Audette Fulbright, Associate Minister at Audette@allsoulsnyc.org or visit our Facebook Page.


UNITARIAN UNIVERSALISTS FOR JUSTICE IN THE MIDDLE EAST
Unitarian Universalists for Justice in the Middle East/All Souls NYC is a chapter of the national UUJME. Our mission is to educate ourselves and our community about the Israeli-Palestinian conflict, to provide a safe environment for illuminating and respectful discussion, and to influence our elected officials to demonstrate equal concern for the human and civil rights of Israelis and Palestinians.
For more information, contact please contact co-chairs Karen Steel at ksteele@mindspring.com or Deborah Taylor at dft4net0@gmail.com.


THE UU-UNITED NATIONS OFFICE
Your voice at the United Nations, the Unitarian Universalist Association's (UUA's) United Nations Office (UU-UNO) is engaged in international advocacy work at the UN based on Unitarian Universalist (UU) values.
From involvement in the drafting of the Universal Declaration of Human Rights, to leading the faith caucus to establish the International Criminal Court, to overcoming UN apathy about sexual orientation & gender identity issues, the UU-UNO has a long history of providing strong leadership in all aspects of human rights at a policy level through UN consultative status.
The All Souls Envoy Program is our congregation's programmatic link with the UU United Nations Office. Focus issues are UN International Affairs and Human Rights.
For more information visit the UU-UNO website.

For more information about All Souls involvement with the UU-UNO, please contact Peggy Montgomery at peggydm@rcn.com.