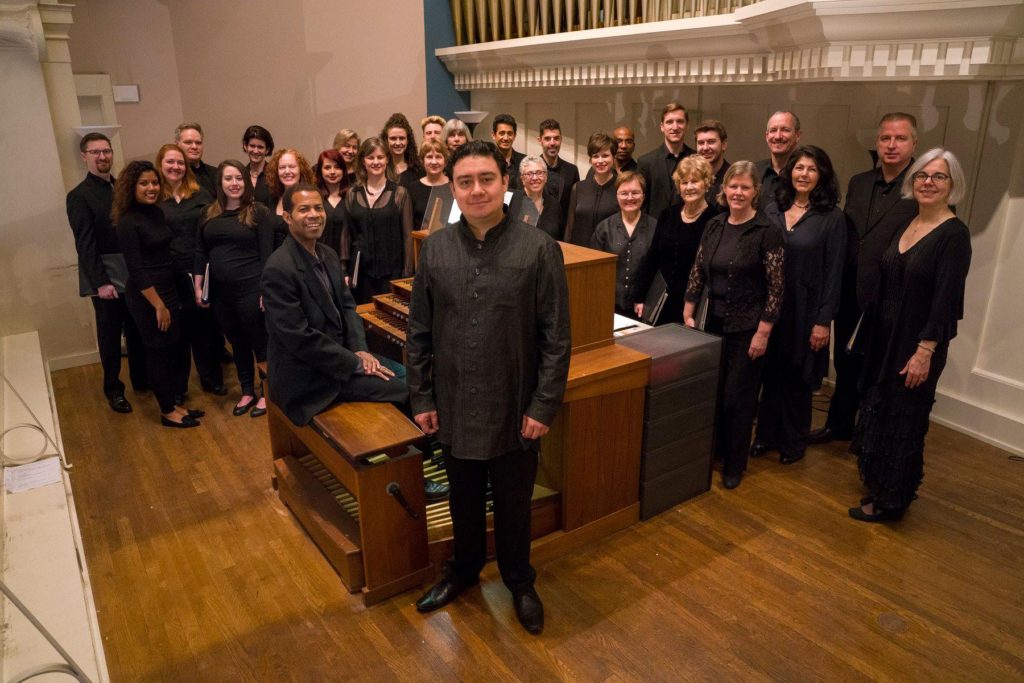 THE ALL SOULS CHOIR
The All Souls Choir, an ensemble comprised of professional and semi-professional singers, performs weekly at worship services at the Unitarian Church of All Souls, under the baton of Music Director, Alejandro Hernandez-Valdez, and accompanied by Assistant Music Director and Organist, Trent Johnson. Our goal is to enhance your worship experience through the transformative power of beautiful music.
We are looking for experienced choral singers with superior reading ability and musical skills. Auditions are by appointment only; please email the Music Department to schedule an audition.
COMMUNITY CHOIR
The Community Choir is open to all (church members and non-members) regardless of musical ability. Rehearsals are held Tuesday evenings. No prior experience singing in a chorus is necessary and all are welcome! The Community Choir sings during Sunday morning services periodically throughout the year. For more information, contact Bryan McNamara at the Music Department.
ALL SOULS AT SUNDOWN – AN EVENING MEDITATION OF JAZZ AND POETRY
All Souls at Sundown is an alternative worship service held one Sunday a month between October and May at 5:00 p.m. in the Sanctuary of All Souls. Led by Galen Guengerich, Sundown employs poetry and music of guest performers to allow time for thoughtful reflection.
Past guest performers have included Ravi Coltrane, Andrea Lindborg, Jen Chapin, Milt Grayson, and the Joe Temperley Quartet. For more information, email Rev. Guengerich.
CHILDREN'S AND YOUTH CHOIR
As an alternative to the grade-based second-hour workshops, our children's and youth choir offers children in the first grade and older an opportunity for vocal training and performance in the All Souls community. The Children's and Youth Choir is directed by James Backmon, who is also the director of the New Amsterdam Boys and Girls Choir. If you are interested in having your child join the Choir, contact Tracy Sprowls, Assistant Minister of Lifespan Faith Formation at (212) 535-5530 or email Tracy.
MUSICA VIVA NY
The Musica Viva NY concert series features the All Souls Choir and a variety of guest instrumentalists. Musica Viva NY is a separately incorporated non-profit organization which performs four concerts per year at All Souls. Musica Viva NY is dedicated to performing choral, instrumental, and organ repertoire of periods ranging from the Renaissance to the contemporary
For more information and current concert schedule, visit MusicaViva.org.